Planning a wedding is no easy feat. While the actual day can feel like a dream, the days and months leading up to it can be quite stressful and be a rollercoaster of emotions. For most couples who are planning a wedding for the first time, searching for a venue, managing a budget, and making time sensitive decisions to bring their wedding day to life can be overwhelming.
Lucky for us who are getting married in this tech savvy world, we have lots of online wedding planning tools and resources to make things easier. In fact, 80% of couples are planning their weddings online with 3 out of 4 couples creating a wedding website to share their wedding details with their guests.
Every year we're seeing more couples creating wedding websites for their special day, not only to share all their wedding details with guests, but also as a way for them to easily get their RSVPs back without having to run to the post office.
If you're wondering what a wedding website is for, whether you should create a website for your wedding and how you can make one, we're going to dive head first into answering all your wedding website questions and share our top 9 picks for the best wedding website builders out there.

What is a wedding website?
A wedding website (also known as a wedsite) is a personalized space for you to share all the details of your upcoming nuptials! The concept of wedding websites has been around for a long time, but now more than ever before, we're seeing couples create their own websites to share and collect information from guests that simply can't be communicated or fit onto traditional wedding invitations.
Why do I need a wedding website? What's the point?
The most common reason why couples choose to create a wedding website is to help their guests find all the information they need to know in preparation for the big day but also to make it easy for both them and their guests to send in their RSVPs.
Traditionally, guests would receive an RSVP card in the mail that they would then need to fill out and send back by post. Today, couples are opting for online RSVPs to save themselves the extra postage costs, but also to save them the time it takes waiting for those cards to be sent back.
And when you think about ALL the information that needs to be communicated to guests, from directions to the venue, whether you've registered for gifts, to room blocks and dress codes, it's no wonder that couples are jumping online to create a wedding website!
You can save yourself a lot of time by directing your friends and family to a website rather than making lengthy phone calls each and every person. I know you love them, but seriously, you have a full-time job and a wedding to plan. Ain't nobody got time for that!
Depending on which platform you choose to build your wedding website on, couples can also get access to additional perks like digital (and trackable!) save the date cards, guest list managers, and other wedding planning tools.
When should you start a wedding website?
There is no hard and fast rule for when to create a website, but the good news is there is really no such thing as doing it too early!

I won't name names, but I know some brides who were secretly building theirs even before getting engaged. You know, the types of gals with a secret wedding Pinterest board. And no judgment at all, by the way, I was one of them! When it comes to wedding planning, it's better to be prepared and ahead of the game. It's good to know what you want!

But if I were to give you a wedding timeline for setting up your website, I would say at least 6-9 months before your wedding day or by the time you send out your save the dates. Including your website URL on your save the dates and invitations is the perfect way to tell your guests about your website and will help them find all the information they need to know.

It's also a great opportunity to share your engagement photos and the story behind the proposal!
How do I make my own wedding website?
Creating a wedding website gives you guests an exciting preview and sets the tone for the day!

Once you've picked the best wedding website builder for you, these are the steps you'll need to take to create a wedding website.

5 steps to creating your own wedding website:
1. Choose a wedding website builder and design template
Before choosing a design, you need to pick the best builder for you. Take some time to think about what you want your wedding website to actually do for you.
Do you want to easily track and follow-up RSVPs? Is privacy a concern and do you want password protection? Is it important for you to keep track of your guests' dietary preferences?
The last thing you want is getting stuck with a wedding website builder that just doesn't suit your requirements, so make sure you take that into consideration before falling in love with a design!
2. Complete your wedding website sections
Once you've decided on a wedding website builder and a beautiful design, it's time for you to fill in the blanks and add your own personal touch to it!
We covered the basics of what needs to be included in a wedding website, but you can also include a welcome message, share a short "About Us" story, bridal party introductions, and even a schedule to show your guests what you've got planned.
If writing isn't your strength and this all feels a bit daunting, don't worry, check out these wedding website wording examples to get started!
3. Add personal touches to your website
Your wedding website should be a reflection of you guys as a couple and set the tone for what guests can expect on the big day!
From sharing personal stories and photographs from the early days of your relationship to asking guests to share their favorite songs for your reception playlist, there are lots of ways you can personalize your wedding website!
4. Send out your invitations
Once you've added the finishing touches to your website, it's time for you to share it with your guests!
The easiest way to do this is by including a link to your website on your wedding invitations. You can keep your invites clean and simple, and direct guests to your wedding website to find all the details they would need to know.
5. Keep it updated
You'll find that things will change as you progress through your wedding planning journey, and you will most likely have some updates for your guests. Rather than contacting each guest individually, continue using your wedding website to make those announcements.
Remember, a wedding website is there to help you save time by providing your guests with answers to all their FAQs. The weeks and days leading up to your wedding are crucial. As your wedding day approaches, guests will be flocking to your wedding website to find directions, the schedule, what the dress code is, and any registry information – Make sure it's updated with all the latest!
The last thing you want to be doing is spending those precious hours sending back and forth text messages to all your guests when you really should be working on your vows and tying up any loose ends!
Top 9 Wedding Website Builders
If you're convinced that you need to make a wedding website and are on the hunt for the perfect wedding website builder, you're in luck.
We've searched high and low and have narrowed it down to our 9 picks for the best wedding website builders out there and the pros and cons of each!
Who they are:
We're a couple of web designers & tech geeks who became frustrated with the lack of intuitive wedding planning tools, cheesy templates, and an inbox full of marketing emails we got after signing up for free website builders.
We wanted to create a personalized space for couples to plan their weddings, set up a beautiful website, manage their guest list and have everything work together without the sneaky upsells and ads.
So that's what WedSites is all about. A collaborative space dedicated for you and your partner to stay organized and plan this wedding!
Here's what we love:
We might be tooting our own horn but, as web designers ourselves, we wanted to give our couples the flexibility to create their own layouts, like you can with Wix and Squarespace, but without the steep learning curve. But unlike a generic website builder, the WedSites website builder is made for weddings and all the bells and whistles you'd need to plan a wedding from start to finish.
Wedding websites built on WedSites are supported by a suite of tools that work together to streamline your RSVPs and guest communication. When guests come to RSVP on your website, their response, dietary preferences, and any other information you ask them to provide will be stored in your guest list manager so you can easily get an overview of their needs and quickly see who you may need to follow-up with. Once you've gathered everyone's dietary preferences and meal options, you can even print out a report to hand over to your catering team!
The platform supports multiple event RSVPs for pre and post wedding events like rehearsal dinners and recovery brunches with the ability to choose specific guests who are invited to those private events.
All of the available wedding website templates come with a matching digital save-the-date and invitation ecard that you can send and track through the platform. However, if you've created your own invitations or have hired a designer create something bespoke, you can upload your own and send it straight to your guest list!
As an added bonus for bilingual and multicultural couples, WedSites is also the only wedding website builder that offer multilingual support with the option to choose a preferred language for each person in the guest list.
The not so great stuff:
Setting up your wedding website is free, but if you want additional features there is a one-time payment of $99 or $199 to get access to the entire suite of planning tools.
If you're only looking at free options, this isn't ideal, but for $99, you're getting access to your own private wedding planning dashboard, a customizable wedding website builder, and the ability to send your own digital Save-the-Dates, Invitations, and emails through the platform without any additional fees.
There is actually a lot more you can do on the WedSites platform than just build a wedding website, but if you have any questions, you can always get in touch with us directly by chat or by email!
Price:
You can set up your wedding website for free, and unlock the online rsvp, guest list management, and digital stationery sending features for a one-time fee of $99.
And if you need a bit of guidance with your wedding planning, want a simple way to keep track of everything and collaborate with your partner in easily accessible place, you can sign up to WedSites Pro for $199 which will give you access to our entire suite of professional wedding planning tools to help you streamline the process.
The verdict:
WedSites is perfect for couples who want to create a custom website with all the wedding-specific features you'd need to manage your guest list and RSVPs.
If you're looking for a well-rounded solution, with wedding planning tools, a flexible drag-and-drop site builder, matching digital stationery, and a personalized space for you and your partner to collaborate on your wedding to-do's, you should create a free account on WedSites to get started.

Who they are:
If you've done your research, you can't miss this wedding directory giant!

The Knot is part of a mega-corporation that dominates the online advertising, merchandising, and publishing for the US wedding industry. In March 2019, The Knot (aka XO Group) was merged with WeddingWire, the largest global marketplace of wedding professionals, and have now come together as The Knot Worldwide.

The Knot is one of the most well-known wedding brands across the US and offers free wedding planning resources from a wedding website, planning tools, vendor directory, and mobile apps.

What you'll get from their wedding website builder is more than just a site builder, but a whole network of vendors and integrations to shops and their partners.
Here's what we love:
With over 160 designs to choose from, you can surely find one that suited for you! Creating a website is easy and straight-forward. They've put together a list of pages and sections for you to use, but you can also create your own as well.

The Knot has a guest list tool that works with the website to help organize your guests, get addresses, and track RSVPs for multiple events. Being able to select photos from your Facebook and Instagram accounts into a photo album on your website is pretty cool too!

They've also partnered with over 25 stores as part of their registry system which allows you to pick and choose products to be automatically displayed on your registry page. If you're not into gifts, they also have a cash registry option where you can add cash and experience gifts.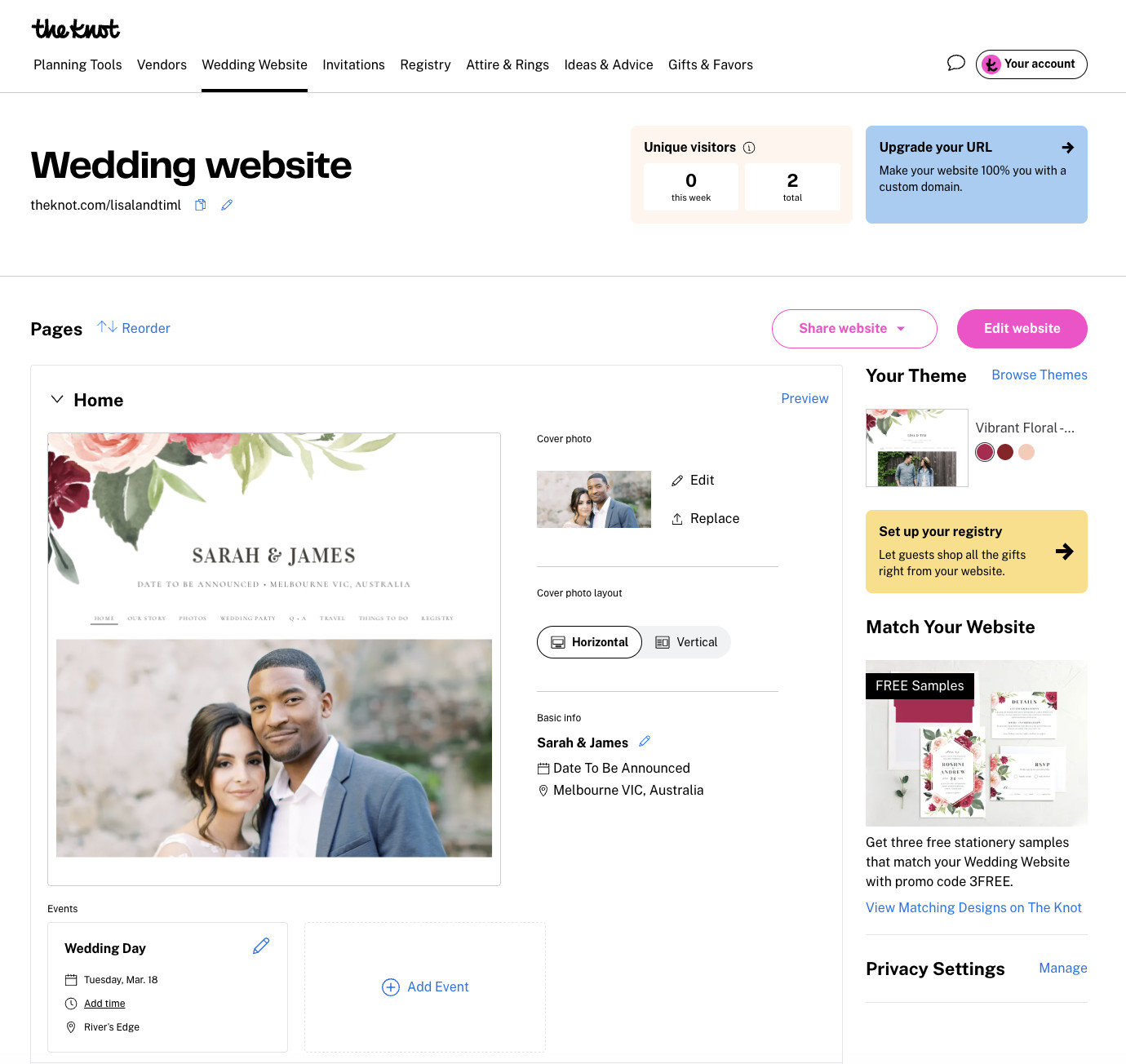 The not so great stuff:
While they say the best things in life are free, in this case, there really is no such thing as a free lunch. Platforms, like The Knot, offer free websites as a lead generation strategy for the businesses that pay them big bucks to show you their ads.
The Knot has overhauled and drastically improved the platform this past year, but you still can't escape the ads throughout the interface and the fact that you're constantly being sold to.
The RSVP is also rigid and cannot be customized. Guests will only have the option to tell you whether they'll be in attendance and select a meal option. And if you're planning a wedding outside of the United States, the vendor directory isn't going to be very useful to you.

Price:
Free or $19.99 for a custom domain.
The Verdict:
Alongside The Knot's wedding website builder, they offer a suite of planning tools and a vendor directory with 300,000 wedding professionals based in the United States and Canada.

Despite its lack of customizability, the free wedding website is easy to use with a variety of designs to choose from. If you can deal with all the ad placements throughout the dashboard and in your inbox, The Knot is a great free option!

Who they are:
New York-based Zola started off as a registry, but in the last couple of years has expanded into wedding websites, planning tools, and a vendor directory for their couples. Putting them in direct competition with US wedding industry juggernaut The Knot Worldwide (The Knot & WeddingWire).

Zola's wedding websites are free to use with the option of purchasing a custom domain name for $14.95. As we said earlier, there is no such thing as a free lunch, but we like that they're transparent about the fact that they make money by selling higher-end wedding gifts through their registry.
Here's what we love:
Setting up a wedding website on Zola is very easy, when you sign in they've automatically created pages for the most common things you'd need to have on your website with the option to hide and reorder them. While the layouts are pretty much the same, they've got over 200 designs to choose from, so I'm sure you'll find one that works for you! We also love that you can see a live preview of your website as you make changes.

Zola seriously takes the cake for having the best integrated wedding registry system. They've got a registry checklist feature that literally walks you through different kitchen and household items that you might want to add to your registry. As an e-commerce store, they will handle any exchanges, returns, and ship the items to your door. If you've been living together for a while and don't need anymore household items, they also have the option to add a gift cards and a cash fund registry.
The not so great stuff:
Overall Zola's interface is easy to use and their designs are modern, but the website layout and customization options are very limited. Zola at its core is a registry service, and while their wedding website and planning tools are pretty awesome, the registry is where they make their money and what sets them apart!
It's worth noting that they only ship to the United States, so you're out of luck if you live outside of the US and want to use their registry system in the way it is intended.
Price:
Free with the option to purchase a custom domain for $14.95.
The verdict:
We love Zola's modern interface and ease of use! While their website layouts and customizability are limited, their gift registry system is seriously next level. If the gift registry is the most important thing to you guys (and you live in the US), definitely check out Zola.
Who they are:
Seattle based Joy is a wedding website builder that also offers a mobile app for you and your guests to use. They are relatively new compared to The Knot and Zola, but what makes them different is that they are entirely focused on the essential features of what's needed and expected when creating a wedding website.

Here's what we love:
Creating a website on Joy is entirely free with no sneaky up-sells in the interface. They have plans to introduce several premium services in the future, but it's free at the time of publishing this article.
They've got over 100+ templates to choose from, with some of the designs available as physical invites from their partners at Elli (Only available in the US). Your wedding website is pretty much set up from the get-go, so it's really quick to get it up and running. We love that you have the option to send digital save the dates and invitations from the guest list too!
The not so great stuff:
Customization and flexibility aren't their strongest suit. It's pretty easy to spot a free wedding website from Joy – The wedding website designs all share a similar layout and structure, so if you're looking to make something unique this might not be the best option for you.
While we like the concept of an app, I'm not sure how practical it is to ask your guests to download one just for your wedding. It's hard enough to get some guests to RSVP by the deadline, so it really makes us wonder how realistic it is to get them to download and use the app.
Price:
Free with plans for premium services in the future.
The verdict:
If you're only interested in a free solution, Joy is a great choice. We love that there are no ads in the interface like there are with the other free providers (The Knot, Zola, and Minted), but their layout options are very limited.
Who they are:
Minted started off as a marketplace for beautiful physical stationery designed by independent artists around the world. But with more couples creating wedding websites and opting for digital invitations, Minted has adapted many of their designs into a website format to match their beautiful stationery collections!
Here's what we love:
Being that Minted is one of the most popular websites for purchasing stationery, they live up to their name and have hundreds of beautiful designs to choose from!
The pages and the structure of the website are already set up for you, so all you have to do is add your own details and your guest list to get it up and running.
The not so great stuff:
Minted's wedding websites are extremely limited, so you really have to live with what you get. If you want to create your own pages, add photos, or password protect your site, you'll need to upgrade to the premium version for $15, which is totally affordable. However, even after you upgrade, you still won't be able to reorder your pages or customize the layout beyond the 2~3 options provided to you.
Price:
Free or $15 to get password-protection and other premium features.
The verdict:
If matching your physical stationery to your website is of utmost importance, Minted is an excellent choice! Just keep in mind that they lack the basic functionality that other platforms have which might become a pain when guests start to RSVP.
Who they are:
Wix is one of the world's leading website creation platforms helping individuals and businesses around the world to create a beautiful online presence without having any coding or design skills.
Their platform isn't designed specifically for wedding websites, but they do have a handful of wedding website templates to give you a starting point to work with.
Here's what we love:
If you're looking to get really creative and make your own website, Wix's drag and drop builder gives you so much flexibility and customization options! While the wedding-specific templates are limited, they do have hundreds of other website templates you can choose or get inspiration from.
And if you don't mind the annoying banner ad displayed across the top of your wedding website, creating one with Wix is 100% free!
The not so great stuff:
While you don't need to be a programmer to create a website on Wix, there is a bit more of a learning curve that comes with using any type of generic website builder.
The flexibility of Wix is great, there is a lot you can do with it, but you need to be patient and play around to fully understand all the things you can do with it. However, since Wix wasn't built for weddings, you won't find any of the wedding-specific features (guest list manager, checklist, etc) that you'd get from some of the other providers on this list. Many of the features are built for bloggers and businesses and probably wouldn't be needed for a wedding website.
The banner ad displayed across a free Wix website is very intrusive. If I had spent the time and energy to fully customize my wedding website, I would totally pay to remove it.
Their plans range from $14 to $39 per month, but you can probably get away with paying the $14 per month Combo plan for personal use.
Price:
Free with Wix banner ad or premium plans starting from $14/month.
The verdict:
Wix is an excellent choice for couples who want to build their own wedding website. While it's a bit tricky to use at first, it's intuitive once you get the hang of it. While the banner ad shown at the top of a free Wix website is pretty annoying, you can pay $14/month to remove it and have a one-of-a-kind wedding website!
Who they are:
Similar to Wix, Squarespace is another popular platform for creating a website without having to touch any of the code yourself. Their clientele is predominantly photographers, restaurants, and other small businesses, so it isn't built specifically for wedding website purposes. That said, they have a couple different wedding website templates to choose from and an interactive drag and drop interface to give you full rein for your creativity.
Here's what we love:
This is the closest you're going to get to building your website from scratch without knowing how to code. Once you get the hang of it, the Squarespace website builder is very easy to use. We love that you can click on the interface and make changes to the website as you go.
While they only have about 8 wedding templates to choose from, we love that you can switch templates anytime without losing the work you've done. With Wix, you have to start over, so we think that's something worth mentioning.
Their templates are very simple, which we love, but the quality of your photos will play a huge role in the final product. If you did an engagement shoot, this is the perfect opportunity to use those high-quality photographs!

The not so great stuff:
Since Squarespace wasn't built for weddings, you won't get any of the guest list or RSVP features that you would get some the wedding-specific platforms. They have created a way for you to gather your RSVPs, but you will need to be a bit tech savvy to figure out how to link your RSVP form (aka Form Block) to a method of storing that information in an email, google sheet, or MailChimp account.
Squarespace costs $14/month for an annual subscription ($168/year) or $19 month-to-month, which is a bit dearer than some of the other platforms on this list.
For a professional website, we think that's totally fair, but for a wedding website you end up paying for business and e-commerce features that you don't need and none of the features you actually do need.
Price:
Two free week trial period and then $168 for an annual subscription or $19/month if you go month-to-month.
The verdict:
Squarespace is a great choice for design-forward couples who want to create a wedding website that's totally unique.
Like with Wix, you do need to be a bit tech savvy to navigate your way around and figure out how to capture guests' RSVP responses. At $14/month, you do end up paying for features that you don't really need, but it could be totally worth it if you want to design your own wedding website and don't mind the lack of wedding-related features.

Who they are:
Appy Couple is a New York-based startup with a wedding suite that includes a wedding website builder with 100+ modern designs, matching digital invites, and an app for guests to download.
They give you two options for payment, $49 per year or $12 per month.
Here's what we love:
Appy Couple has a beautiful selection designs and 2 layouts to choose from. Their websites are interactive and we love the different widgets they have!
It's pretty awesome that you can send out digital save-the-dates to match your website template and customize the email that goes out to your guests too. You can also send out notifications and message your guests directly through the app.
The not so great stuff:
In theory, we think it's quite handy to send alerts and messages to guests through the app… but I'm not sure how many of your guests will actually download, and most importantly, use the app for its intended purposes. Which is quite a shame considering the App is a core part of Appy Couple's offering.

While the website design collections are very stylish and unique, their website builder is pretty underwhelming. You'll have several sections on your initial website that you can add content to, rename, reorder, and enable or disable, but that's about it.
Appy Couple gives you two different layouts to choose from, which you can switch at any time, but if you're looking to get creative this might not be the best option for you.
Price:
No trial period. You can pay $49 annually or go for the monthly option of $12 per month.
The verdict:
If you want to go fully digital with your guest communication and trust that your guests will download the app, Appy Couple could be a great option for you!
While you can't make too many modifications to your site, their modern templates are unique, designed for weddings, and are mobile optimized. Unfortunately, they do not offer a trial period, so you will need to pay $49 or $12 per month before getting access to the platform.
Who they are:
Riley & Grey is a New York-based company which has made a name for themselves as the provider of luxury wedding websites. With a price point of $35/month or $240/year, they are the priciest one on our list, but their stylish and elegant designs definitely add a level of sophistication.
Here's what we love:
Riley & Grey has 27 chic templates with a couple different color variations to choose from. While they have fixed fonts and layouts, we can appreciate the careful design choices made by the designers of these collections. We also thought it was handy that many of their collections come with editable paper stationery (invitations, save the dates, menus, programs, RSVP cards, and envelopes) that are available for purchase at an additional cost.

Unlike Appy Couple, we love that Riley & Grey allows you to start editing and playing around with the website without taking out your credit card. Just keep in mind that you can't share your website or send any emails without signing up to one of their plans.
The not so great stuff:
While we like that you can see the website update as you save changes, we found the website builder interface to be a bit quirky and hard to use. There is a lot of clicking and scrolling involved when editing the site, which makes it easy to get lost in it all, especially on a smaller screen.

Considering the price point and how modern the Riley & Grey website designs are, we were surprised to see how outdated their guest list management and website builder tools are.
Price:
$35 per month or $240 for a full year.
The verdict:
Riley & Grey is a great option for couples with bigger budgets who don't mind paying for a luxurious design. That said, for the price point, their site builder feels a bit clunky and outdated.
Wedding Website Builder Comparison
So, what's the best choice for me?
If you want to keep all your wedding planning in one place, the ability to send digital invitations to your guests, and set up a one-of-a-kind wedding website. Get started with WedSites.
If creating your own custom website is the most important thing and you don't mind not having any wedding related features, use Squarespace or Wix.
If the gift registry is the most important thing to you, and you live in the US. Go with Zola.
If your priority is finding something that is free, use Joy.
If you don't mind all the ads, want a suite of planning tools and a US vendor directory at your fingertips, go with The Knot.
If you want a modern design with an app for your guest to download, use Appy Couple.
If having a luxurious predesigned template is the most important thing to you, go with Riley & Grey.
If it's important for you to have physical stationery that perfectly matches your wedding website, go with Minted.