Sending your thank you cards will be one of the very last tasks on your wedding to-do list. But how do you craft the perfect heartfelt message for each individual guest without getting stuck with writer's block along the way?
If you're currently looking for some thank you card wording inspiration, you're in the right place! From etiquette tips to wording examples, keep reading for our complete guide on exactly what to write in a thank you card after the big day.
Thank You Card Etiquette
Do you really need to send out thank you cards following your wedding? While it's not exactly mandatory, sending a thoughtful thank you card is the perfect way to extend your gratitude to each guest. Remember, your guests have likely spent both time and money to join you on your special day, so it's only polite to share your appreciation for their presence, along with any gifts or contributions made.
Who needs to receive a thank you card after the wedding?
Thank you cards aren't just reserved for wedding guests – they can be used for anyone else who played a role in your celebration, no matter how big or small. Traditionally, thank you cards are sent to:
All wedding guests who joined you on the day, particularly those who gave a gift or contributed to your wishing well
Parents and bridal party members
Guests who were unable to attend the wedding but still sent their warm wishes and/or a gift
Anyone who contributed financially to the wedding
Anyone who contributed in other ways; i.e running errands, picking up guests from the airport, etc.
When it comes to addressing your guests, couples and families can receive a joint thank you card, rather than an individual card for each person. For plus ones, the thank you card should be addressed to the guest invited, but a message of thanks can be extended to their plus one in your wording.
When should you send your wedding thank you cards?
It's important to send your wedding thank you cards in an appropriate time frame. The correct etiquette is to send your thank you cards within 3 months of your wedding – the sooner, the better. If you're really stuck for time, you should prioritise thank you cards for any guests who travelled to be there, along with guests who gave you a gift or wishing well contribution.
What to Write in a Thank You Card: Wording Examples
When it comes to crafting the perfect thank you card, a personalised message is always best. While it might be more time consuming, it will be much more meaningful for your recipients.
With this being said, you can streamline the process by creating a general format to follow, and simply tweak the messaging to reflect your relationship with each guest. An easy format for a wedding thank you card might look something like this:
Address your guest/s
Thank the guest/s for joining you on the day
Thank the guest/s for their gift or wishing well contribution (if relevant) and elaborate on why you love the gift and how you plan to use it
Mention how much you enjoyed seeing them at your wedding, and any memorable moments you shared
Express a final word of thanks and an invitation to catch up soon (if relevant)
Sign off from you and your new husband/wife
Your thank you cards don't have to be lengthy – 4 or 5 sentences is completely acceptable!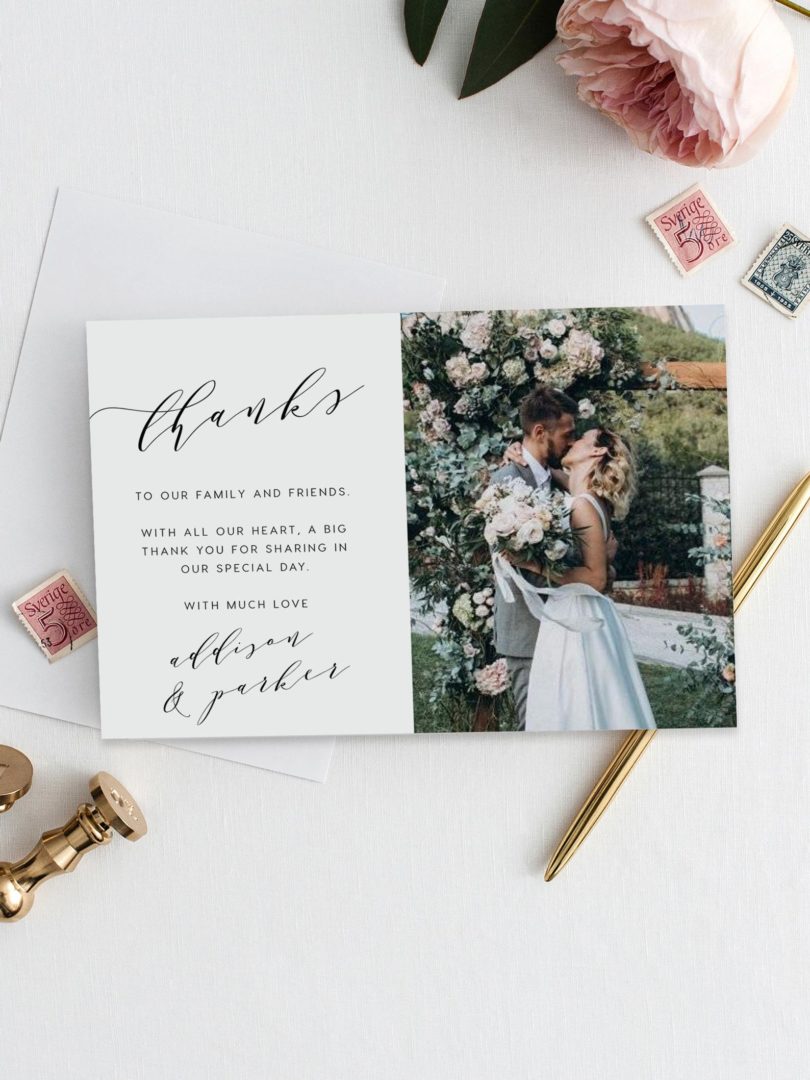 Wedding Thank You Card Wording Examples
Ready to get stuck into that mountain of envelopes? We've compiled some wording examples for a range of different thank you card scenarios below:
For guests who gave a gift
When thanking guests who gave you a gift, try to personalise your message to elaborate on why you love their gift and how you'll use it in the future. Instead of using vague references like "Thank you for your gift, it will fit perfectly within our home!", try to get specific, like "Thank you so much for the beautiful cutlery set – we can't wait to have you over for dinner sometime soon!".
For example:
Dear Bill and Beatrice,
Thank you so much for joining us on our special day, and for your thoughtful gift. We absolutely love the blender – it's exactly what we need for our new home, and we'll be thinking of you every time we make margaritas!
We are truly grateful for your presence at our wedding, and especially for the hilarity shared on the dance floor. What a night!
Thanks again for your thoughtfulness, we can't wait to catch up with you soon.

With love,
Madeline and Max
For guests who made a monetary donation
In this scenario, you don't need to reference the specific amount of money that was gifted. Instead, simply thank guests for their generosity. You might want to elaborate further by explaining how you plan to use their contribution, whether that's for your honeymoon, a house deposit, or charity donation.
For example:
Dear Stan and Sally,
Thank you so much for celebrating with us last month, and for your extremely generous gift! Our honeymoon was the perfect way to begin our new life together, and we couldn't be more grateful to you for making this possible.
We are so incredibly blessed to have you both in our lives. From the bottom of our hearts, thank you for sharing in our joy, love and happiness. You guys will always be an especially fun part of our wedding memories, and we look forward to catching up soon to reminisce!
Lots of love,
The Masons
For guests who travelled
Make sure you express your gratitude for any guests who made travel plans to join you. You can use your wording to acknowledge the effort involved on their behalf, and how much it meant to have them there on the day.
For example:
To the Smith Family,
Thank you SO much for going out of your way to join us at our wedding! We are so fortunate to have you in our lives, and it just wouldn't have been the same without you there. It meant the world to us seeing your smiling faces in the church pews, and being able to catch up with you all after so many years.
Our day was even more memorable having you there to celebrate with us. We hope to return the favour sometime soon!
Lots of love,
Pete and Patricia
For guests who brought a plus one
If any plus one guests gave you a gift, they should receive their own thank you card. But if not, you can simply extend your thanks to them in your message to the invited guest.
For example:
Dear Jimmy,
Thank you so much for joining us at our wedding! We are particularly thankful for your beautiful gift – the painting is currently hanging proudly in our hallway, I will be sure to send you a photo.
Could you please also extend our thanks to (plus one) – it was wonderful to meet them, and we really appreciated (his/her) warm wishes on the day.
Thanks again for adding to our wedding memories.
With love,
John and Juliet
For bridal party members
Make your bridal party thank you cards extra special by sharing the different ways each person contributed to your overall wedding experience, and how much you value their friendship.
For example:
Dear Bella,
Thank you so much for being the best maid of honour a girl could ask for! Your endless smiles, words of advice, organisation skills (and wicked dance floor moves) made our special day even more perfect. I'm so lucky to have an incredible best friend like you.
From the bottom of my heart, thank you for playing such an important role in not only our wedding, but our lives. I can't wait to debrief with you over some tacos and tequila soon!
Love always,
Milly
For your parents
While you likely gave your parents a shout-out in your wedding speech, a handwritten note will become a beautiful keepsake they can hold on to for a lifetime! Create a thoughtful thank you message by highlighting your gratitude and appreciation for their ongoing support.
For example:
Dear Mum and Dad,
We will never be able to thank you enough for your support, encouragement and generosity over these past few months! Our day was everything we dreamed of and more, and a big part of that was having you both by our sides – walking me down the aisle, celebrating with us, and delivering your beautiful (and tear-jerking!) speeches.
We feel so incredibly blessed to have you in our lives, and to experience this exciting new chapter with your unwavering love and support. Thank you for everything.
Love always from your daughter,
Katie
For wedding vendors
Don't forget to give thanks to the different wedding vendors who made it all possible! From your planner to your photographer, your wedding vendors will appreciate your kind words more than you know. Use your thank you message to highlight what you loved about working with them, and how much you valued their services.
Dear Sarah and the entire crew at (company name),
We just wanted to take a moment to thank you for all of your assistance in pulling our wedding day together! Everything came together perfectly, right down to the last detail. Your expertise, advice and calming nature made our wedding experience so relaxed and stress-free. It was truly our dream day, and we know it wouldn't have been possible without you.
Thank you for going above and beyond for us – we will be sure to recommend you to everyone we know.
Sincerely,
Tom and Tayla
For guests who couldn't attend
Sending thank you cards to guests who were unable to join you is the perfect way to help them feel involved in your day, even though they couldn't be there. Make sure you acknowledge their warm wishes, and/or gift if relevant.
For example:
To Christine and Craig,
Thank you for thinking of us on our wedding day! We are so grateful for your warm wishes and generous gift – you know how much we love our picnics, so the platter will definitely be put to good use over the summer.
We missed you at the wedding, but know you were celebrating with us from afar. We'd love to catch up for a Skype call sometime soon and share our photos with you.
With love,
The Jamesons
Thank You Card Tips and Tricks
We know that stack of thank you cards can seem overwhelming, so keep these final tips in mind to help you streamline the process:
Stay organised! As you sit down to open your wedding gifts and cards, you might want to create a spreadsheet of each guest and their corresponding present. This will help you keep track of exactly who needs to be thanked for what!

Don't overcommit yourself. Trying to get through your thank you cards in one sitting can be seriously stressful. Instead, do them in batches of 10-20 at a time.

Make it fun! Crack open a bottle of wine with your new hubby/wife, put on your wedding playlist or wedding video, and relive your special day as you work your way through each card.
Currently wrapping up your wedding plans? Don't miss these 8 important things you need to do after your wedding and our ultimate packing list for the day!