When you look beyond the pretty flowers and the table decorations, weddings are essentially a celebration of love. So when it comes to planning your own wedding, don't forget one of the most important elements of any great celebration – the food!
It might not be the first thing that comes to mind amongst the excitement of planning your wedding, but making sure bellies are full and guests are comfortable should definitely be high on your priority list.
When it comes to choosing your wedding menu, it's not as straightforward as simply picking your favourite meals and calling it a day. You also need to think about how the food is actually going to be served.
These days there are a multitude of options when it comes to menu service styles. From a traditional plated meal through to shared platters or even a food truck. The variety of options can feel a little overwhelming if you don't know what to keep in mind!
Don't forget that your catering costs are one of the most expensive elements of your day. Each menu style has their own benefits, along with considerations to be aware of.
It's important to do the research first and understand exactly what your chosen reception menu style means for your guests, your requirements and of course – your budget!
The plated meal – what is it?
When it comes to menu service styles, the most traditional option for a sit-down wedding reception is always going to be the plated meal. Along with being the most traditional, it's also the most straightforward when it comes to logistics.
A plated meal usually consists of three courses, being an entree, main and dessert. Generally, you'll choose between two to three different options for each course.
It's recommended that you choose between a variety of proteins like chicken, beef or fish to appeal to the tastes of your guests, along with an alternative option for those with dietary requirements.
Guests can then pre-select their preferred option up front, or you can opt for an alternate drop.
If you are giving guests the option to select their menu choice upfront, it's helpful to do this well in advance instead of taking orders on the night. This way your caterer can order the perfect amount of food for each meal.
You can ask your guests to select a meal when you send out your wedding invitations, allowing them to send back their preferences. Alternatively, you can keep things super streamlined by creating a wedding website and keeping track of their selections online in the one place!
Pros of the plated meal
The standout feature of the plated meal is how straightforward and simple it is to organise! If you don't want to spend hours working out portion sizes or logistics, then a plated meal could be a great option for you.
All you need to do is choose your preferred options for each course – it's that easy! Your caterer will then be able to give you a cost per person for your menu, so you can easily see how much of the budget you'll need to set aside according to your guest numbers. If you haven't already created your wedding budget, make sure you do this first!
Because the portion sizes have been allocated for each guest, this option also means no wastage. Think of it as restaurant style dining, with the only wastage being leftover scraps of food on your plate. When it comes to being economical, a plated meal definitely offers you these benefits.
It also means that everyone is served at the same time, so you can guarantee all guests will be fed and comfortable. Nobody is going to miss out on dinner because they were deep in conversation or on the dance floor!
Cons of the plated meal
A sit-down plated meal is definitely the most formal option, so if you're dreaming of a more relaxed and casual ambience then it might not be the best option to achieve this. It does feel more like a restaurant experience as opposed to a homely atmosphere!
If you have opted for an alternate drop, there is also a possibility that a majority of your guests may prefer one option to the other. You would hope that nobody is going to start an argument over chicken or lamb in the middle of your wedding reception, but if you have some seriously picky eaters in attendance then it might cause some tension!
Keep in mind too that a plated meal naturally takes up more time for service. Each guest is individually served and plates need to be cleared after each meal. The cleanup and turnaround of each course might have implications on the time you have allocated for your speeches and dancing.
Budget implications
Because your guests are being served their dinner restaurant-style, it does mean more wait staff required throughout the night. It's likely that your bill for staffing may be much higher than some of the other menu styles.
You'll also need to keep in mind the catering requirements that come hand in hand with a plated meal. Along with the price of the meal itself, you'll also need to make sure you have the right selection of crockery and cutlery.
This usually means both entree and main knives and forks along with a dessert spoon. Not to mention a plate or bowl for each course, and a napkin. There's a lot of servingware required so don't forget to factor this into your budget!
The family style menu – what is it?
As wedding trends have evolved over the last few years, family style (or feasting) menus have definitely increased in popularity.
A family style menu refers to shared platters of food that are placed down the middle of the table, along with serving utensils for each dish. It basically replicates a family dinner at home but on a much larger scale!
Guests will pass around the platters of food between each other and help themselves to whatever takes their fancy.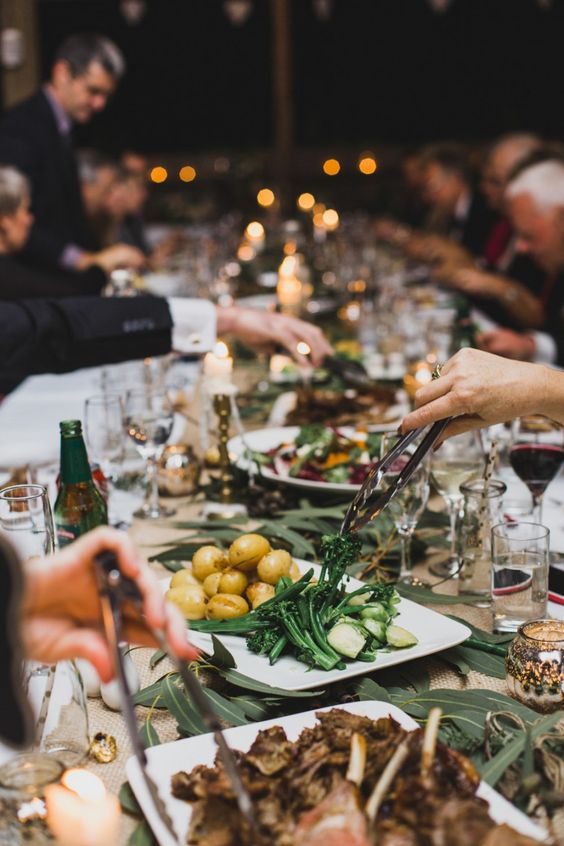 Pros of the family style menu
Brides these days are loving family style menus because of what they represent. It's all about family and friends coming together and sharing food through the act of communal dining.
A family style menu is a far more casual and relaxed alternative to the more formal plated meal. It feels very homely and intimate, so if this aligns with your wedding vision then a family style menu might be the perfect option for you to achieve this ambience.
This menu service style also naturally encourages conversation between guests. It can be a great way to get people mingling throughout dinner and breaking the ice!
A family style menu also means more variety for your guests to enjoy. Instead of a choice between two courses, there will be a selection of proteins, sides and salads for them to pick and choose from.
Cons of the family style menu
One of the downsides of a family style menu is that there isn't any form of portion control! You can't really assume how much each guest is going to eat, so it can be trickier for your caterer to assume a price per person.
A hungry guest might eat more than their assumed share and leave someone else feeling peckish. There's no way of knowing for sure that everyone is going to finish dinner feeling satisfied.
On the contrary, your guests might eat much less than expected and leave you with piles of uneaten food. It's not quite as economical as some other menu styles due to the potential wastage.
Another consideration is the mess. With guests serving themselves and passing platters amongst each other, don't expect your tables to remain in pristine condition!
Budget implications
Although a family style menu means less wait staff required, it might not always be the cheaper option. Because your caterer has no form of portion control, they'll generally overestimate when it comes to ordering food – at your cost. The staffing bill may be lower but your food costs could be higher.
You'll need to think about the serving requirements for a family style menu and factor this into your budget as well. Platters and serving utensils are a necessity, along with a dinner plate per person, one set of cutlery and a napkin.
And don't forget the tables! If you have opted for family style, you need to make sure your tables are wide enough to accommodate for the shared platters of food.
Each caterer will have different requirements based on the size and number of platters but generally, you'll need tables that are between 90 – 110cm wide. This could mean an additional cost to you as wider tables are generally more expensive than a standard trestle.
The buffet – what is it?
A buffet is similar to a family style menu in that it involves guests helping themselves to a variety of food, but from a separate location. A long buffet table filled with food is set up in walking distance from your guest tables.
Guests will head over to the buffet location and fill up their plates to take back to the table, going back and forth as often as they like. You might just have a buffet for the main course, or it could also include your entree and dessert options too.
Pros of the buffet
A buffet generally offers even more variety than a family style menu. It usually includes multiple options when it comes to proteins, vegetables and salads, along with breads, sides and condiments. It's a great way for guests to try a little bit of everything, and perfect for picky eaters.
Self-service at a buffet can be an easier option than having guests passing platters around the table. Because the buffet is set up in a communal location, nobody is going to miss out on a particular dish because it's sitting too far away!
Cons of the buffet
If you don't like the idea of guests waiting in queues then a buffet is probably not suited for you. It's definitely the least glamorous menu style, so if you're envisaging a sophisticated evening then a buffet is probably not the best reflection of this.
You also have zero portion control due to the nature of self-service. We all know that when people have a huge variety of food in front of them, they tend to want to try everything! You might find people piling up their plates and taking more than their estimated share.
People walking to and from the buffet to their seats also increases the likely of accidents like food being spilt or plates being dropped. If your wedding venue has you pressed for space, imagine guests trying to manoeuvre their way through the tables with a plate full of food. It's definitely not the best option for tight spaces so make sure you figure out your table layout before choosing this style of food service.
Budget implications
The budget implications for a buffet style menu is similar to a family style menu. Although there is less wait staff required, your caterer will need to overcompensate when it comes to ordering food!
You might also need to hire specialty equipment depending on your menu selection. Along with the buffet table itself, you may need serving dishes, baskets, bain maries or trays of ice for seafood and cold meats. This specialty equipment is usually more expensive than your standard platters and plates. Don't forget serving utensils and table linens too!
Cocktail style – what is it?
If you're planning a cocktail or stand up reception, it goes without saying that your service options are going to be a little different to a sit-down affair.
Guests won't be seated at communal tables so the food either needs to come to them or be easily accessible. Food service is usually in the form of wait staff roaming around with canapes, or a designated food station like a mezze or grazing table. You can even embrace totally modern options like food trucks or a wood-fired pizza oven!
Pros of cocktail style
A cocktail style menu means that your guests have the option to try a selection of different foods without the flow of the night being interrupted. Your guests won't have to spend hours waiting for others to finish their meals before the next course is served, or line up in a queue to get fed!
It also means that guests can eat when they feel like it. Instead of sitting down for one big meal, they can sample smaller portions of food throughout the night when it suits them.
The possibilities are endless when it comes to cocktail style service, so you can totally personalise it according to what reflects you best as a couple and your vision for the day. For a more elegant affair you can have waiters roaming with hors d'oeuvres, or if it's a casual backyard gathering then a food truck could be the perfect fit.
Cons of cocktail style
Serving sizes are generally smaller for cocktail style food so there can be some concern with making sure everyone has enough to eat. For weddings where there is alcohol flowing freely, it's even more important to make sure everyone is well-fed.
If you've opted for roaming canapes rather than a communal grazing table, then there is also a possibility that some guests might find themselves in the wrong place at the wrong time and continue to miss out on the servers. With guests mingling around the venue, bathroom breaks and time spent on and off the dance floor, there's no guarantee that the food is going to find it's way to each and every guest.
It can also be a little trickier for those guests who may have dietary requirements. Not only will you have to make sure there is a separate option to cater for their needs, but you'll need to make sure whatever you have organised finds it's way to them during the night.
Budget implications
Cocktail-style receptions are definitely the most confusing when it comes to working out a cost per person. This is because the portion sizes might vary and there's no way to know for sure that everyone has been able to access the same amount of food.
Roaming canapes are definitely going to mean higher staffing costs, with waiters having to circulate the venue throughout the entire course of the evening. This is where it can be more cost effective to have some kind of central food station like a mezze table or a food truck, instead of relying on the wait staff.
You'll need to chat with your caterer (check out our helpful questions below!) in order to determine any equipment required for your cocktail menu. It might just be a number of platters needed for the wait staff, or you may need a specialty table setup. If you've booked a food truck then you'll need to check if plates and cutlery are included in their service or if this needs to be organised yourself.
Ask questions
No matter which reception menu style you choose, there's only one way to know for sure if it's going to work within your requirements and budget – just ask!
It's so important to ask your caterer any questions you might have upfront. You don't want to be hit with any surprise invoices after the event or discover that they need specialty cooking equipment that your venue doesn't provide.
Keep the following questions in mind when meeting with your caterer to make sure you cover all bases:
Are you available on my wedding date?
Do you offer a tasting service to sample the different menu options?
How does your pricing work? Will you give me a price per person or a lump sum?
Will you be able to cater for guests that have dietary requirements?
Are there any dietary requirements you don't cater for?
What timeframe is needed to have my confirmed guest numbers and menu preferences to you?
Do you have experience in the menu service style I have chosen?
Will you be able to make suggestions in order to work with my budget?
Who is responsible for organising all of the serving equipment, cutlery, crockery, linen and glassware?
Are there any additional costs I should be aware of, for example, staff overtime?
Are you familiar with my wedding venue?
Do you set the tables on the day?
Are your menu options able to be customised according to our preferences?
Do you have any specific kitchen requirements?
How many wait staff will be there on the day?
Here's a printable version of this list. These questions should give you the best initial indication of pricing and what exactly is included in your package!
Don't sweat the small stuff
If you're still stuck with deciding on the best menu style for your wedding, it might help to sit down and define your wedding vision first. Your overall vision for the day might naturally lend itself to one menu style over another.
By keeping the above tips in mind, choosing your wedding menu style doesn't have to be a headache. While it's definitely important to make sure everyone is fed and comfortable, don't get caught up in worrying about pleasing absolutely everyone.
Be honest, have you ever felt like a wedding was ruined because the side salad wasn't to your taste? Not likely, right?!
At the end of the day, your guests are there to celebrate your love, not to critique your menu. Just choose a menu style that works best for you and your requirements, and the celebration will still be just as special.